MISHO
未生流
History of Misho School
Misho School was established by Ippo Mishosai in 1807 in Osaka. Ippo defined the philosophy and the style of Misho School.
The second Mishosai headmaster, Koho Ueda progressed Ippo's Ikebana and made a firm foundation spreading Misho School all over Japan. He also published and compiled some theoretics books and brought up of many followers.
In 1893, the masters of Misho School agreed that the Hihara family succeeded the Iemoto (headmaster) title by heredity in recognition of Genpo Hihara's great achievements.
The 8th Iemoto, Koho Hihara, expounded the modern arrangement style called Shinka in 1930. The 9th Iemoto, Sekiho Hihara, laid the foundations for runnig Misho School. "The 200th Anniversary Exhibition of Misho School" was held in Osaka in 2008.
Keiho Hihara has succeeded to the 10th Iemoto in 2014.
Misho School endeavors to spread and develop the Misho-spirits maintaining the orthodox styles of Kakubana, Shinka and Zokei as the mainstream of Misho.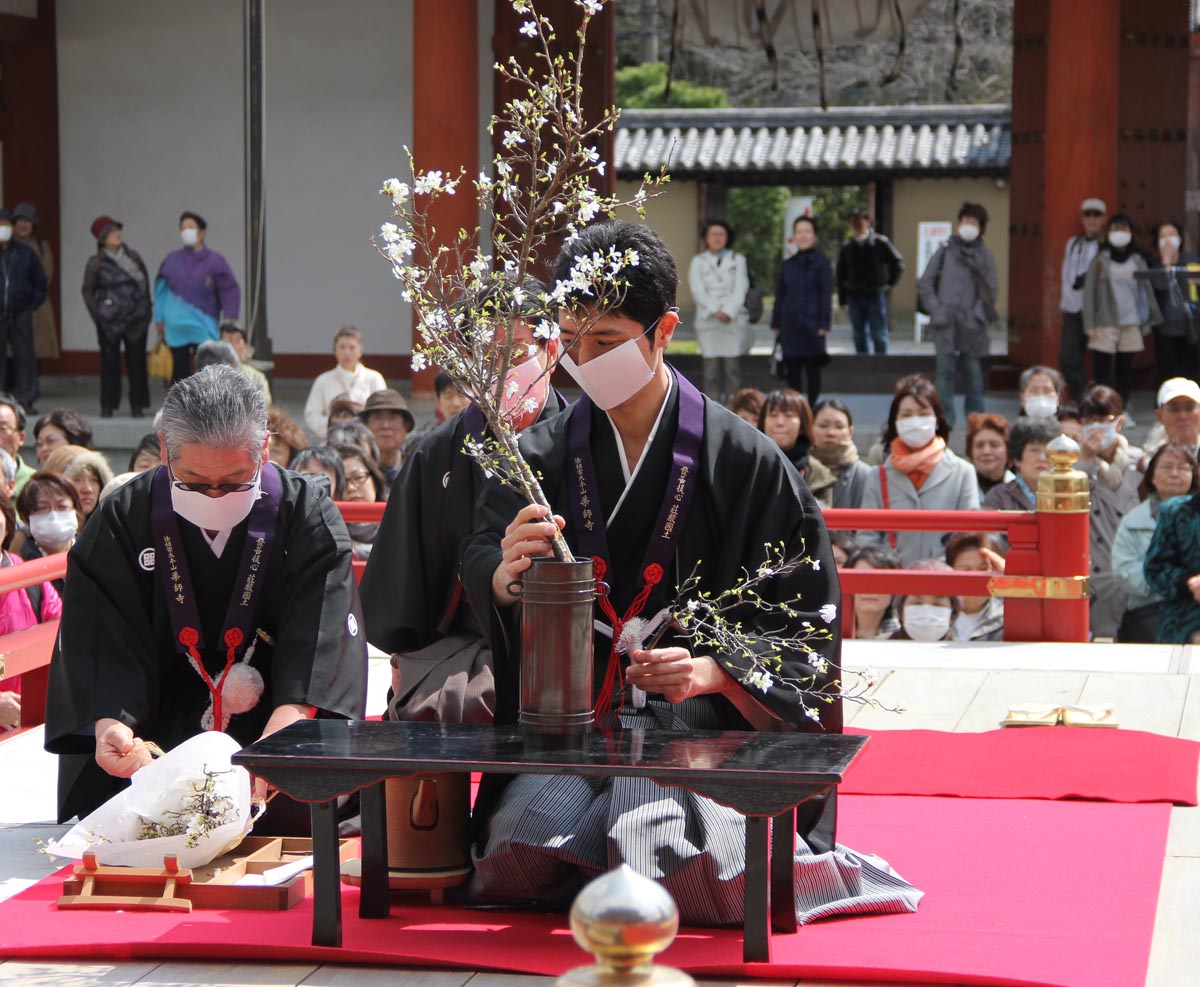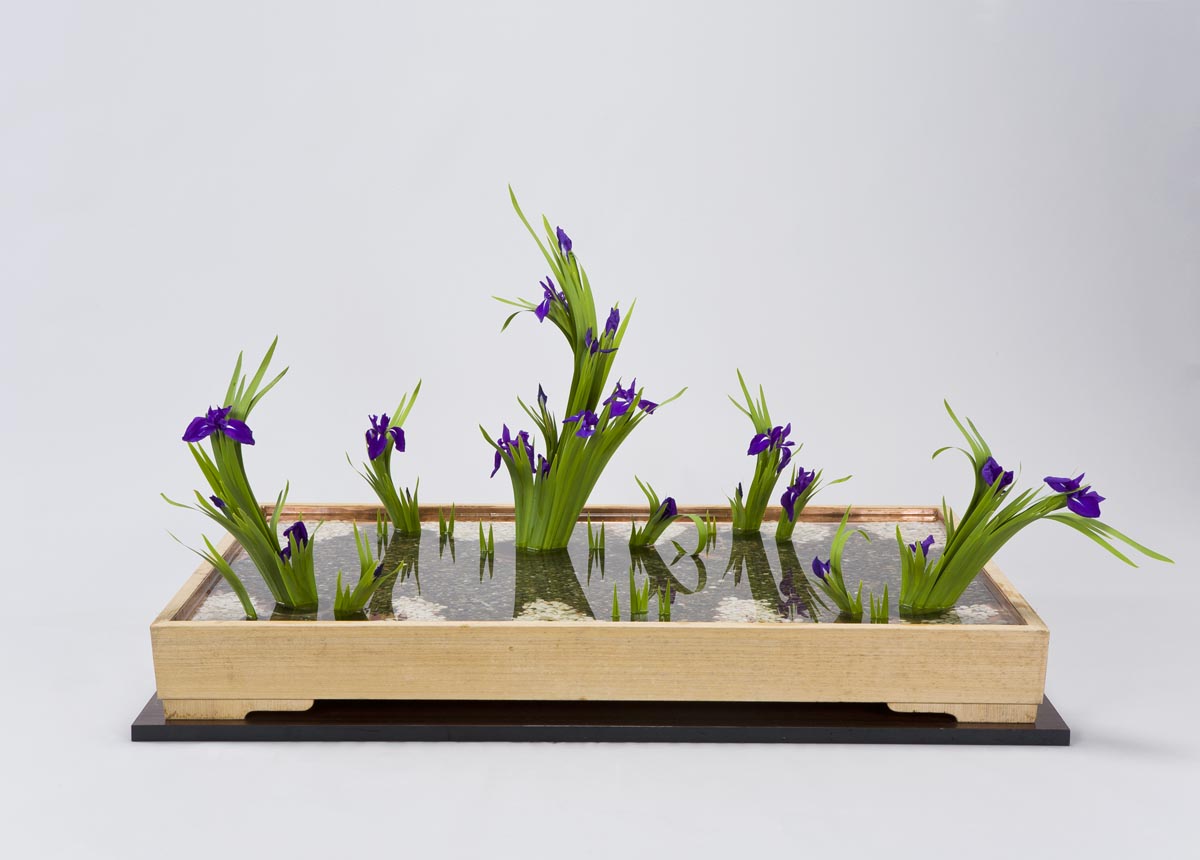 Kakubana
The founder of Misho School, Ippo Mishosai conducted his own Ikebana philosophy based on Yin-Yang and the five elements, as well as Eastern thoughts.Ippo tried to express his philosophy to the defined figure of flowers.
This is the Kakubana, the classical form of Misho School.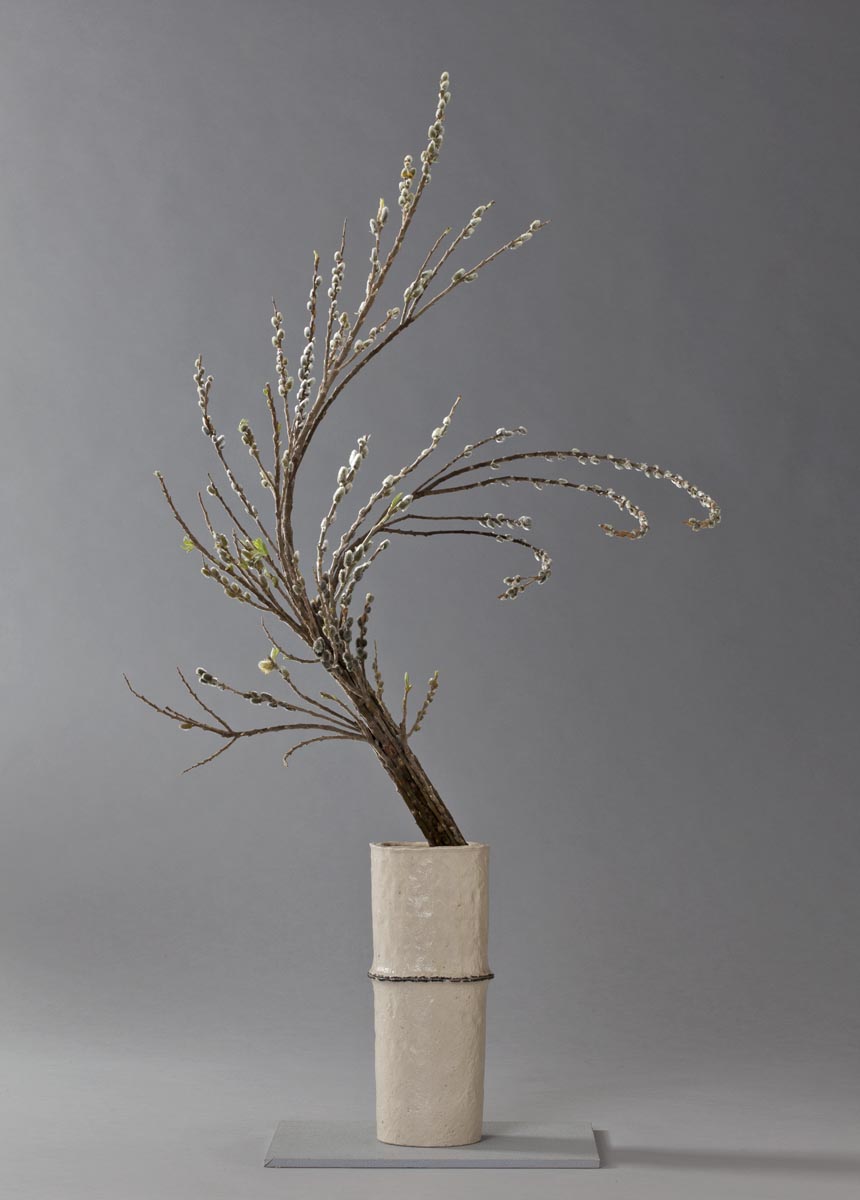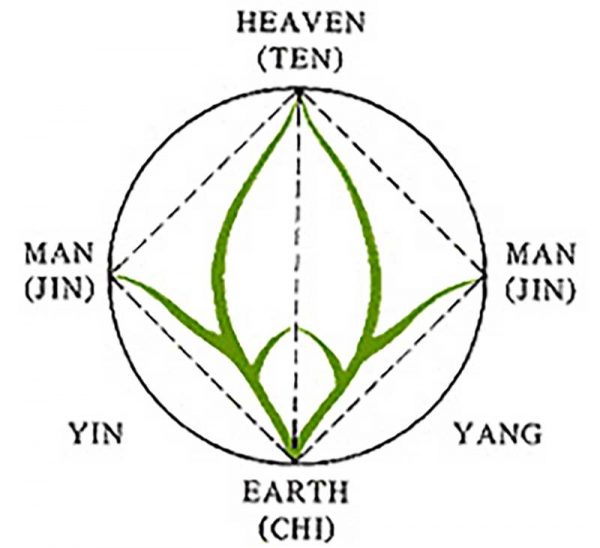 It has a distinct form which consists of a simple and perfect geometric design.
The basic idea can be understood from diagram.
The circle expresses the dynamic and limitless nature of heaven while the inside square defines the four seasons and four directions of earth. Two triangle are formed by bisecting the four-cornered figure.
In the triangle, three branches are arranged.The tallest branch expresses heaven(Ten),the medium one does human being(Jin) and the shortest does earth(Chi).
This idea is the fundamental principle of Kakubana, though which a deep appreciation of the harmony between nature and human being is expressed in a simple geometric design.
It is worth to learn Misho School's Ikebana for the people who have a desire to know about the esoteric technique of Ikebana. People can learn not only the technique and the theory of Ikebana, but also expose to the intellectual cultural inheritance of Japan.
Shinka
Shinka is the modern style of Misho School. Basically Shinka is categorized into two styles, called Moribana and Heika.
For Moribana are used generally the wide and shallow vases,and for Heika are used the long and narrow vases.
These modern styles, which demand more flexible methods and fewer restrictions, express the feelings and emotions of the arranger more freely and directly by stressing colour harmony and the physical quality of the materials. In these days these styles are comparatively recent innovation in Misho School.
In addition, Shinka can be subdivided into several groups. Zokei is one of the Shinka which is very differnt from general Ikebana.Not only unique materials, such as shafts, roots, leaves, but also artificial materials can be for this style.