PRESIDENT'S MESSAGE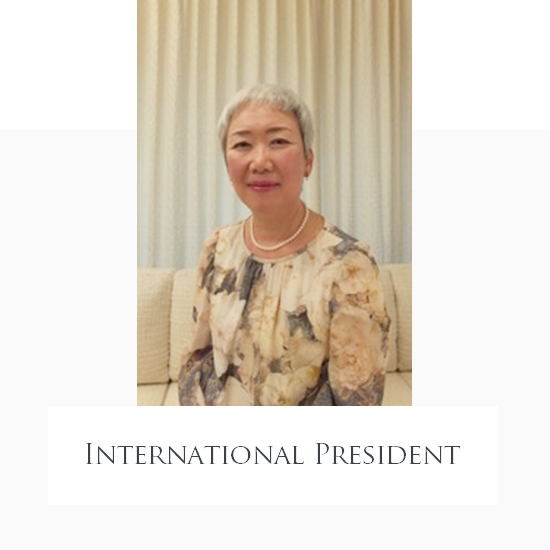 President's Message
Dear members of Ikebana International and ikebana friends,
Thank you for visiting our Home Page!
June 6 is Ikebana Day. This special day was created by Japan Ikebana Art Association (Ikebana Geijutsu Kyokai) and registered on January 6, 2020 in order to promote ikebana. This date is derived from an old custom: June 6 is a good day to start lessons in, for example, dance or a musical instrument, at the age of six with prayers for good achievement and success in the future. Many ikebana schools and artists plan a special event or will arrange special ikebana works for this day. Please search the internet to find some photos and information about this!
Recently many ikebana activities have resumed and I had the opportunity to visit real ikebana exhibitions and see demonstrations by iemotos. Once again I came to realize the profundity of ikebana as an art form and ikebana as a means of self-expression.
Many ikebana teachers may have experienced that, when they teach students for a long time, the ikebana works reflect not only the personality but also the emotion or mood of the practitioner. So it seemed, when I visited exhibitions, I felt the bursting energy of ikebana artists or, I would like to say, the joy of creating ikebana after enduring these past two difficult years.
For non-members of Ikebana International, there are diverse ways of approaching ikebana. To arrange in the very traditional style, you should practice for a long time to acquire techniques. But for free style, what is necessary is sensibility, although of course some techniques help a lot. Just get one or two stems of flowers and choose glassware or anything as a container. You can change the atmosphere of your room with this simple arrangement. If you are interested, please take a look at Chapter Activities or access the link of ikebana schools from this site.
We are about to launch a new page called "Future Events" to introduce events and exhibitions hosted by our chapters and ikebana schools. I will be happy if you could visit one of these events with your family members and friends and enjoy seeing real ikebana works.
Friendship through Flowers
Nobuko Sakata
International President