PRESIDENT'S MESSAGE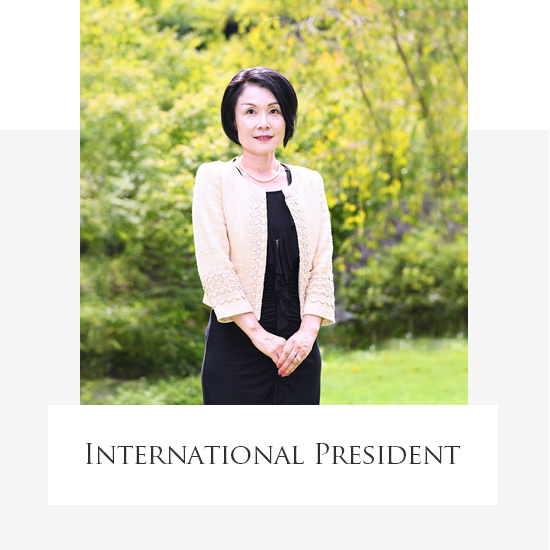 President's message as of 25th May, 2020.
Dear I.I. members and all viewers,
Today, on May 25, 2020, I am updating the President's Message for the first time in nearly two months.
In April and May, here in Tokyo, under the state of emergency declared by the government, people were urged to avoid nonessential outings with the slogan of "Stay Home," which affected many people's lives.
Taking this opportunity, I would like to express my deepest gratitude to healthcare professionals and others who have been devoting themselves to treating COVID-19 patients and supporting our lifeline. I would also like to show my sympathy to members who are suffering from the disease and those whose loved ones were infected with the virus.
After nearly two months of self-restraint, the state of emergency was lifted today in Tokyo. Our social activities will be gradually resumed, but with due vigilance. We should not let our guard down for months to come.
On the other hand, even under the unprecedented situations in many countries, I learned people were not just fearfully isolating themselves for the past couple of months but were trying to stay positive, challenge new things, and figure out ways to connect with one another without going out.
In I.I. Headquarters, three board meetings have been held online. We managed to communicate, discuss, and make decision on necessary issues. Although the board members including myself are not particularly IT-savvy, we are trying our best to keep online board meetings functioning.
It was amazing to watch online ikebana workshops presented by a number of teachers of different ikebana schools and online ikebana demonstrations on YouTube by some I.I. members. I personally experienced renewing friendships with some of my old ikebana friends in London by simultaneously arranging flowers, using Zoom.
In line with the changing world we live in today, new forms of connecting people through ikebana may be emerging. If I am informed of the coming meetings online of I.I. local chapters, I might join them from Tokyo to greet participants from the opposite side of the globe, if the time difference allows! Such a thing may sound like a joke as it was totally inconceivable in the past, but may be indicating a new way of interaction among I.I. members.
Many ikebana events were canceled or postponed, which must have made many of you feel hurt and down. Some of you may be wondering how to proceed with the future ikebana activities, which I understand very well.
I believe it is important for I.I. to be considerate of those who are having a hard time, as we have tried to do so, and to be resilient to keep us going forward by challenging new things. Let's stay positive and do our best to open a new horizon by gathering all of our knowledge and wisdom.
I sincerely hope we can soon get back to those peaceful days when we can deepen mutual friendship through ikebana. Let me conclude by wishing good health to all of you and further development of I.I.
Miho Okawara
International President
Ikebana International