PRESIDENT'S MESSAGE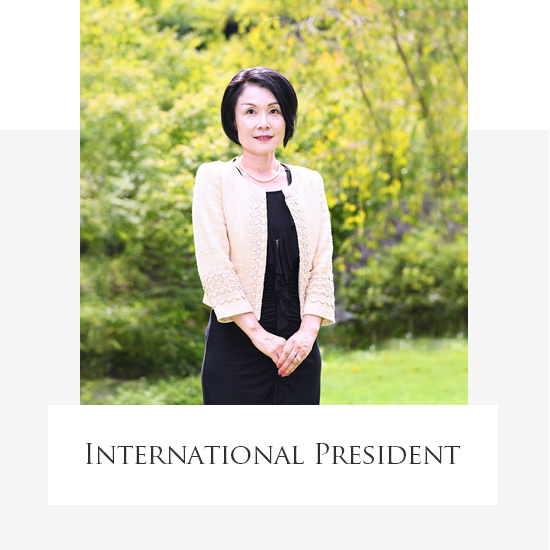 President message as of 27th March 2020
Dear I.I. members and all viewers,
Welcome to the Ikebana International website.
I'm very sorry if any of you or your family or friends have been infected by the coronavirus (COVID-19). Even many others may be in unusual, inconvenient situations.
We are learning how important and precious our ordinary everyday life is. The invisible, odorless, yet frightening virus is creeping into our "normal" lives, both public and private, and causing tremendous difficulties throughout the world.
I can see how many I.I. members are disappointed by the cancellation and postponement of various ikebana events in this flower-blooming spring season, or are isolating yourselves at home with overwhelming anxiety.
My heart pains every time I receive emails from local branches informing I.I. Headquarters of cancellation of their ikebana events, as I understand a lot of time and energy were devoted to preparing them. I feel really sad.
When I look outside my window, however, I can see cherry blossoms in full bloom, with some petals starting to fall gracefully off. They are blooming as beautifully and splendidly as ever, regardless of the virus spreading worldwide.
I hope each of you can also find your familiar plants, leaves, and flowers at or around your home, quietly cheering you up all the time.
We know that no night lasts forever. Although we are in the middle of an unprecedented challenge, spring blooming plants are around us as usual this year and next year as well, making our world bright and colorful.
Even now, the staff members of I.I. Headquarters come to the HQ office by jam-packed train to do their routine work including official procedures for members, sending I.I. Magazines, and so on.
The monthly board meeting was cancelled in March, but will be held next month. All are doing their best to sustain services to I.I. members around the world.
Our circumstances are subject to change if a state of emergency is declared by the Japanese government, but please be assured that the HQ staff and board members of I.I. including myself are trying our hardest to keep supporting I.I. members, and wishing the best of luck to you all, including viewers of this website, just as flowers and plants are always with you.
Please take good care and stay well and positive.
Even if you cannot see flowers in ikebana events due to cancellations, you may be healed by finding a flower, even a small one, in your garden.
Please stay home and get through the current crisis.
I sincerely hope we can soon get back to peaceful days and meet together again.
In friendship through flowers,
Miho Okawara
International President
Ikebana International